The sneaker world today is as big as it's ever been, with huge sneaker brands such as Nike, Adidas, New Balance & Jordan brand releasing sneakers weekly. Huge music artists such as Kanye West & Travis Scott have collaborated with these huge brands, we're seeing sneaker prices rocket to highs we've never seen before.
The comeback of the old classic sneakers has been great to see, classic sneakers such as Nike SB, Reebok Club, New Balance 550 & Nike Air max 90 have seen a rise in popularity within skate culture, with their older models reselling 3x the price of retail. Newer brands such as Adidas Yeezy & Off white are driving the future of sneakers today with their eye catching design and forward looking silhouettes, with Off Whites brand's collaborations with Nike being some of the most popular sneakers of the last few years.
The fashion houses have been getting into the sneaker culture too, big names such as Gucci have taken inspiration from sneaker brands such as Adidas with their Stan smith sneakers, to create premium luxury leather sneakers. Here at Represent we pride ourselves on our quality and luxury, and our sneakers follow that.
The best sneaker brands take inspiration from others and here at Represent, weve taken inspiration from brands such as New Balance, Nike & Air Jordan to design some of the best luxury sneakers on the market today. Heres a few examples of luxury sneakers we have to offer:
The Apex
The Apex was designed by blending the premium nature of a low top skate sneaker with the sporty flair of a basketball shoe. Taking inspiration from fashion crowd favourite the Nike Air Force 1 & New Balance 550, the chunky low top is universally filling and the best sneakers made for everyday wear. We recommend going true to size on these sneakers.
The flat white sneakers colourway is an iconic style for sneakers, made to be worn with any streetwear outfit and to go with any pant or denim style. The mixture of tumbled & flat leather is combined with our signature motifs, like the zig-zag stitch and metal bar detailing. The padded collar ensures maximum comfort, along with our custom two-tone skate-inspired sole unit. This colour also comes with White & Grey laces, to switch up your sneaker to fit your outfit. We recommend pairing this sneaker with a pair of our carpenter denim in blue

The new colourway is part of our SS22 collection released earlier this year. The taupe colour being a perfect tone for the upcoming spring & summer months. Just like the flat white style it encompasses the 2 tone smooth leather, but the suede uppers stand out much more in the Taupe finish. We recommend pairing this sneaker with a pair of our carpenter denim in taupe.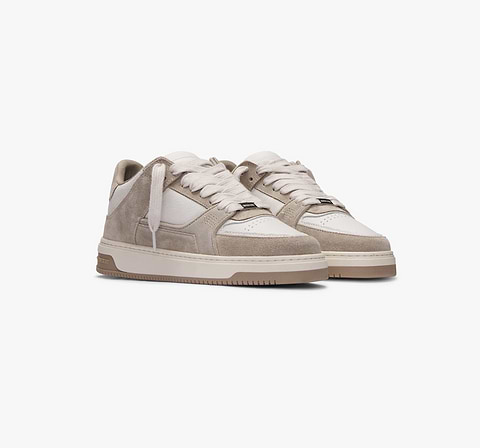 The Alpha was one of our first luxury sneakers, featuring a bespoke upper and custom chunky sole with logo branding. Crafted with premium accents and materials. Made to be worn with anything, they look great with both a low key casual outfit or dressed up for going out. Its a go to sneaker for all streetwear culture. We recommend going true to size on these sneakers.
One of the first releases from our Alpha collection, and our bestselling colour. The luxury everyday sneaker features a full black suede upper and white zig zag stitching details. The sneakers are hand made in Portugal, using the finest materials to give it that luxury sneakers feeling. The chunky white custom sole gives it that perfect luxury look, perfectly paired with some of our black denim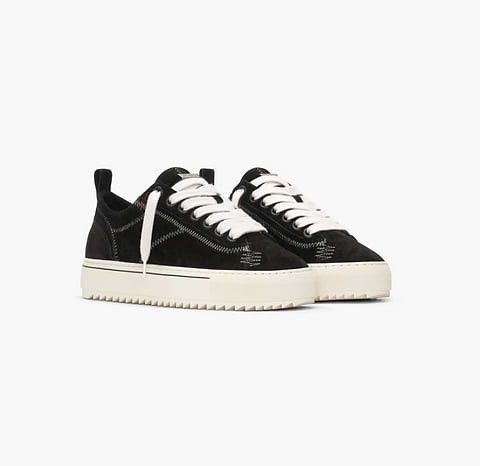 The bestselling style got a triple black colourway. Sneaker culture has become obsessed with the all black shoes, becoming popular when Nike released their Air Force 1 in All black. The triple black colourway allows the sneaker to be worn with a full black fit, and makes it easier to be dressed up. We recommend styling this sneaker with some of our essential black denim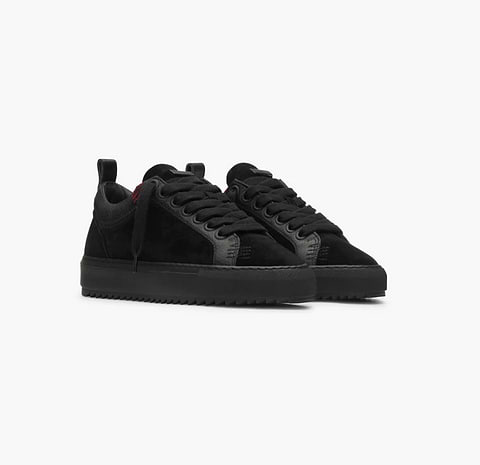 Taking inspiration from a traditional skater style sneaker, we evolve the silhouette to express luxury in our way. Sneaker history has taken lots of inspiration from the skater scene, the SB dunks and chuck taylor taking huge inspiration from skaters. Our Reptor Low has been analysed, dissected and re-configured for a more proportionate fit to the foot, including a higher toe box and a custom sole unit. The sneaker fits true to size. If you take a half size, we recommend going up to the closest full size.
One of the first releases of our Reptors were this brown colourway, a twist on modern classic colours. An ash grey tread is completed with stamped logo detailing whilst the letters 'REP' are discreetly branded in brown to each side of the upper. The chunky sneaker is completed with a leather padded collar for added comfort just like all the other shoes in our collection. We recommend a pair of our baggy denim to pair with these, or some of our military pants.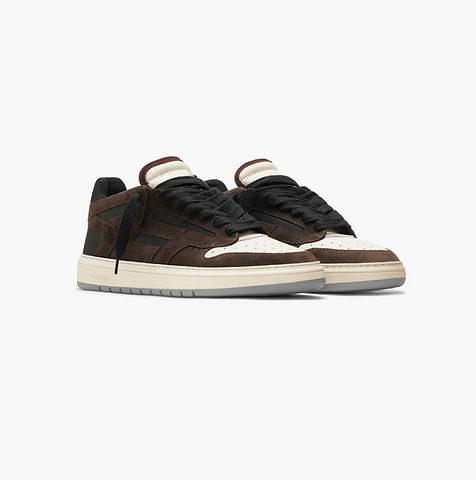 A new colourway of our Reptor silhouette, and quickly became a top selling colour for us. We used one of our bestselling colours from our Owners Club collection and decided to add it to the Reptor silhouette, the cobalt blue makes the shoe stand out in your fit. It would be perfectly paired with our Cobalt Blue Owners Club Hoodie & a pair of our Blank shorts in Black.
The harrier is a runner silhouette reimagined in a luxury form named after a bird of prey, and the jet. An upper mixed with matte tumbled leather, flat nylon and suede, our first everyday runner doesnt skip on the quality materials. The Harrier was inspired from classic sneakers such as the Nike air max and adidas yeezy, on trend for the current sneaker culture. Our comfiest sneaker comes in a range of colours, and we'd recommend taking a half size down on these.
This new addition is part of our SS22 collection, the colourway combines a light grey and white upper, sat on an all white sole with an ash tread. The nylon breathable mesh makes it easier to wear all day, everyday. We recommend pairing these harriers with some of our 247 pants, to give that full sportswear look.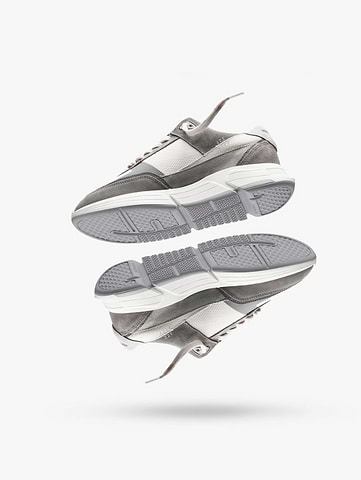 In addition to the Grey/Vintage white colourway, we released an all white pair as the duo dropped in our SS22 collection. The go to colourway is unmatched when it comes to matching with outfits, giving it that timeless look. We recommend wearing this sneaker with a pair of our 247 shorts, for the summer look.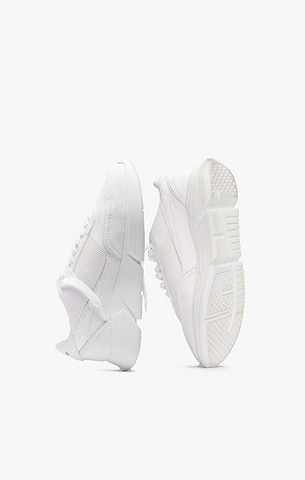 The Viper
The Viper in Triple Flat White is the result of 2+ years of in-house development. It is Represent's first technical fashion focused runner; featuring a ballistic nylon and tumbled leather upper with embroidered fang details, it is a silhouette so striking that it lives up to its name. The Viper has a three-piece custom mould translucent mixed rubber sole with Represent initial branding.
The triple flat white colourway is the perfect summer shoe, the chunky white sole allows the shoe to be worn with various different fits and still steal the show. We'd recommend pairing these with some of our Initial Mesh Shorts in Cobalt and one our Blank T-shirts in Flat White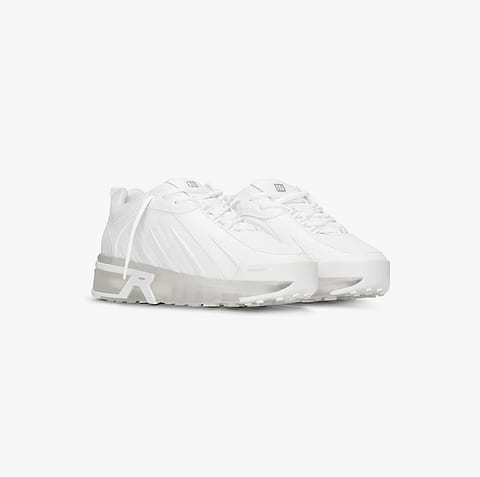 The triple black colourway is one for the winter, again the chunky black sole allows for multiple outfit combinations, but we feel like this show suits the colder weather the best. We would look at pairing these with some of our 247 Mission Pants in Black, our Initial T-shirt in Black & our All over logo puffer gilet in black.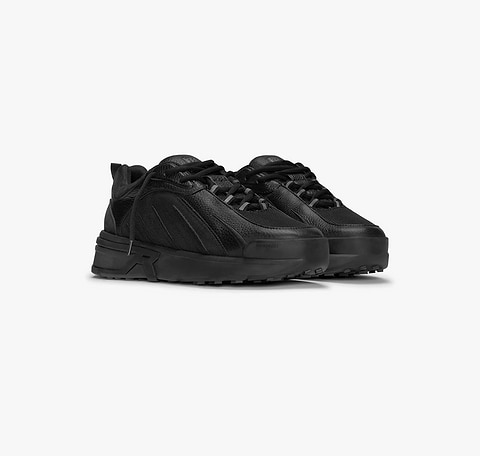 We strive to have the best sneakers on the market, the emergence of fashion house sneakers and the huge enterprises of Nike, Nike Air Jordan and New Balance don't make this a bona fide thing, but we aim to ensure your next pair of sneakers are from Represent.
These are our top 10 streetwear shoes that we have to offer in 2022, if you need an alternative to Jordan brand, new balance or adidas sneaker, Represent has the best sneakers on offer to you.
Keep an eye out on our website for more future sneaker releases, as all the best sneaker brands do, we are forever widening our range of sneakers. Upcoming for early 2022 we have our Core sneaker and our Viper sneaker, be sure to check our socials for any future release dates.
You can now buy sneakers through Klarna, Clearpay or any of the other payment methods we have on offer, so you can buy risk free. Customers in the UK get free returns on all products featured in this blog, so try out some of our sneakers today.
With free shipping UK-wide and a variety of discounts elsewhere on the site, there's never been a better time to upgrade your streetwear. This is a great time to shop at Represent.