Men's fashion trends come and go season to season, so keeping your wardrobe in the current style can be difficult. Despite this though, there are a number of timeless essential pieces that you can pick up which are guaranteed to always keep you on trend. This article will present 6 clothing pieces which are essential to any man's wardrobe to keep you looking good, whatever the season.
6 Wardrobe Essentials for Men
A White T-shirt
Simplicity at its finest, a white t-shirt is possibly one of the most versatile pieces you can own. Throughout the ages, white t-shirts have been a wardrobe essential popularised by rock stars, actors, TV personalities and everything in between. Their versatility means that you can wear a white t-shirt with pretty much anything; pair with some jeans of any colour for a more casual look, or alternatively try with some tailored pants for a smarter aesthetic.
Our Initial T-Shirt in Flat White was created specifically to be the best white t-shirt on the market. Meticulously designed for well over a year, we perfected the fit, fabric and flow of the simple white t-shirt. It is crafted from 205gsm jersey cotton, slightly lighter than our mainline tees. This ensures comfort in hot weather, whilst still being heavy enough to maintain some weight and warmth in colder months.
If you're looking for a coloured t-shirt then be sure to explore our range of grey t-shirts, green t-shirts and brown t-shirts.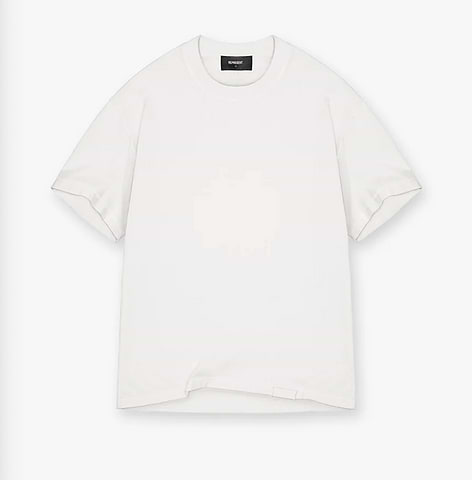 A Blank Sweater
If you're looking for something casual which can be worn across any season, for almost any occasion, then you'll be wanting to look for a blank sweater. Just as typical worn to the gym as it is repped for a meal out, a minimalist blank sweater can be worn multiple times a week across a number of outfit combinations. Sweaters can be layered over a t-shirt for warmth during the colder periods or just as easily worn by themselves during summer months. They are an essential piece for anyone looking for minimalist clothing to be worn for every occasion.
We designed our Initial Sweater to be perfected simplicity. Crafted from 400gsm jersey cotton, it has wide sleeves and an overall boxy fit. It features meticulous stitching and rib detailing to yield the visual experience of true luxury in addition to ultimate comfort.
Black Jeans 
Popularised throughout the Rock and Roll era, black jeans have gone from being championed by the likes of Jimi Hendrix and Elvis Presley to an everyday essential, whilst maintaining the underlying rebellious feel of the time from which they were born. The beauty of black jeans is that they transcend styles, making them completely versatile. You can pair with a shirt for a smarter feel, or try wearing with an oversized graphic tee for a grungy streetwear fit. Be sure to check out our article on black jeans outfits for men to see an abundance of outfit ideas.
Our Baggy Jeans in Vintage Black are a staple piece suitable for any wardrobe. Crafted from soft stretch Candiani Denim, they represent everything you are looking for in a pair of black jeans. These jeans are confidently versatile, wearable across pretty much any outfit combination or style whilst our guarantee of quality ensures that they will maintain a luxury feel wear after wear. Try pairing with a boldly coloured varsity jacket for a standout look.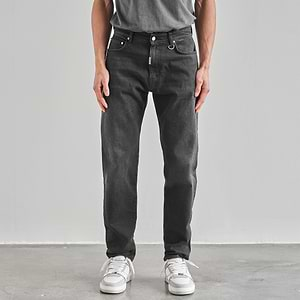 Grey Joggers
There is no wardrobe piece which represents an effortlessly casual style like a pair of grey joggers. They are incredibly easy to style throughout any season, and will go with almost anything. Whether you want to pair with a matching grey hoodie for an athletic Rocky Balboa style, or rep with a colourful sweater reminiscent of paparazzied Justin Bieber, grey joggers are a wardrobe essential which isn't going anywhere.
If you are looking for a luxurious quality pair of grey joggers which will never let you down, then you want to check out our Blank Sweatpants in Grey Melange. Crafted from heavy loopback cotton, with cord adjusters to the hem of each leg, these joggers can be worn loose or with a more fitted stacked leg. They also feature an adjustable drawstring hem for ease of adjustment.
An Oversized T-Shirt
Hear me out. Although you might not consider an oversized fit t-shirt to be a completely essential wardrobe piece, I'm about to convince you otherwise. A good quality oversized t-shirt can be worn with anything to give your outfit an overall streetwear look and feel. More relaxed than a form fitting t-shirt, an oversized tee can be paired with joggers to portray a laid back aesthetic, tucked into some tailored pants for a smarter and style conscious look, or repped with some jeans or cargos for an unmistakably streetwear outfit.
Oversized T-Shirts have always been at the heart of our collection of T-Shirts, with a wide range of bespoke graphic and blank tees. They are all crafted to the highest quality from medium weight cotton to ensure a luxurious feel with every wear. Check out our oversized graphic tees to view all of our t-shirts with bespoke graphics created in house. These tees come in a range of colours and washes, so you are likely to find something to suit your wardrobe style. Our Blank T-Shirts are also built to last to the highest quality. They come in a wide range of colours, pastel tones, and vintage washes. For a minimalist look, you may want to check out our Blank T-Shirt in Vintage White or Black. If you are looking for something more dynamic, check out our pastel colours such as Washed Blue or Clay.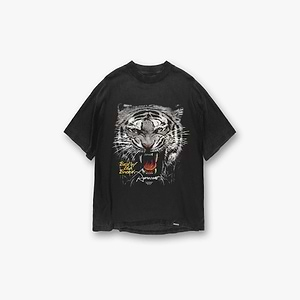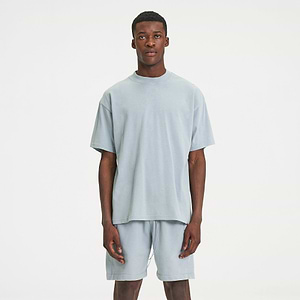 Cargo Pants
A high quality pair of cargo pants may be what is currently missing from your wardrobe. The right cargo pants are incredibly versatile as they are the fusion of form and function. Generally there are a wide variety of fits, colours and styles of cargo pants, but what usually separates them as their own category is an abundance of leg pockets. Originally created for the British Army in the 1930s, cargo pants continue to follow a military/tactical style, and can generally be worn with a wide range of t-shirts. This pants style was originally created purely for functionality, but nowadays that same functionality is what draws the eye of the fashion conscious.
If you're looking for the best cargo pants on the market, then you may want to check out our 247 Pants. These cargos were created to maximise the functionality of cargos, whilst maintaining a clean aesthetic. They feature technical 4 way stretch fabric, with multiple cargo leg pockets and adjustable hems for a customisable fit. As far as cargo pants go, these are the gold standard; they can be worn to the office, at the gym, on a run, or out in town.
Mesh Shorts
Perhaps not a piece you would've previously considered essential, our mesh shorts are perfect for everyday wear. They are crafted from a nylon/elastane blend, making them light, comfortable, and perfect for everyday wear. We have a wide range of colours and designs, however if you're looking for a staple that'll go with anything, then be sure to check out our Owners' Club Mesh Shorts in Black.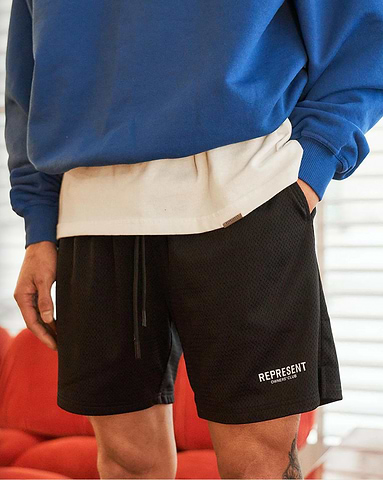 Closing Thoughts
If you're ever unsure of what you can do to upgrade your wardrobe, you may want to make sure that you have the men's wardrobe essentials presented in this article covered. This will ensure that you have some timeless pieces which you can wear with the knowledge that you're looking good. If you like what you see from the essential Represent pieces, be sure to check out our New Arrivals to stay up to date with the latest releases.