Along with the ubiquitous t-shirt and hoodie, one of the key components of streetwear style is the pants. After all, the pants you wear can drastically alter your silhouette, changing your look and even your demeanour.
As work, working out, rest, and play have continued to merge, we're increasingly demanding more versatility from our clothes. Every man should have at least a couple of high-quality streetwear pants in his wardrobe.
Although you may immediately think of khaki cargo pants, streetwear trousers can equally refer to denims or sweatpants.
With new fabrics and engineered garments entering the market, streetwear pants have never been cooler or more multifunctional. Today's streetwear is clothing you can be active or inactive in.
Fashion brands and activewear manufacturers all have their take on how streetwear pants should look and feel. We believe we have hit the sweet spot, blending form and function and creating the best cargo pants, sweatpants, and streetwear denims on the market.
Best Streetwear Pants of 2023
We offer a wide variety of streetwear styles. From the best cargo pants, military pants and denims to sweatpants, joggers and shorts our collection of fits will suit any style and purpose.
Keep a lookout for our best streetwear jeans blog. In the meantime, we're going to concentrate on streetwear cargo pants, sweatpants, and maybe a few wildcards.
So without further ado, here are our picks for the top ten streetwear pants available in 2023.
247 Pant
The 247 Pant was created to be suitable for every purpose and every occasion. These slim leg cargo pants are made from technical four-way stretch fabric, with a water repellent membrane, you can wear them anytime, in any condition. Cargo pockets on the side and zip pockets to the front keep all your valuables safe while you're on the move. An elasticated drawstring waist and adjustable hem offer a customised fit, while a faux fly completes the cargo trousers appearance.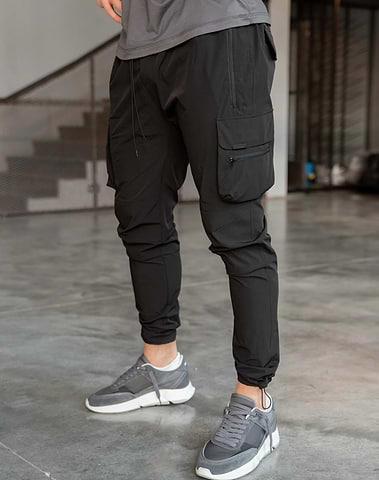 You can choose from a sophisticated colour palette running from Navy and Black to Burnt-Olive, Ash, Grey, and Dusk. But once you've tried them don't be surprised if you want at least another pair.
247 Hiking Pant
The 247 Hiking Pant is the ultimate tech pant, kitted out with tactical hardware including a fixed waistband with adjustable belt, zipped hand pockets, cargo pockets and a zip calf pocket.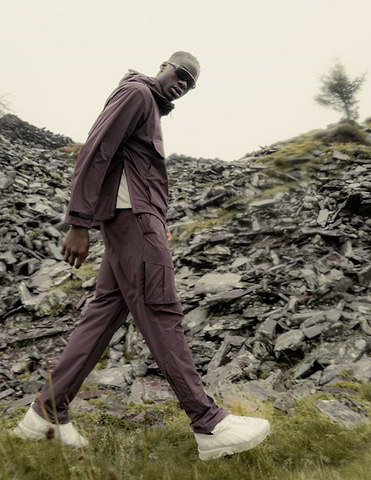 With a rubberised lobster clip and front triangular belt ring, the pants fulfil the need for a style with optimised functional capabilities whilst having a flawless aesthetic. In a world now where technical garments are at the forefront of everyday fashion, these pants are hard to pass up on.
Utility Pants 
The Utility Pant is crafted from luxury French cotton fabric; softer than denim, but more durable than cotton. They have a baggy fit with carpenter style detailing throughout which, combined with the premium fabric build, possibly makes them the coolest pant you can buy right now.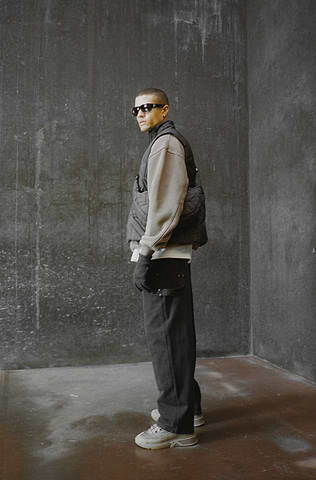 Try styling our utility pants with any of our graphic tees and layer with either an oversized hoodie or a varsity jacket.
247 Mission Pant
Taking cues from vintage hiking pants, our 247 Mission Pant builds on the 247 Straight Leg Pant in a stretch nylon fabric. Shower-resistant and lightweight, these pants are suitable for a variety of activities. Knee articulation and an adjustable toggle hem give you a customised fit.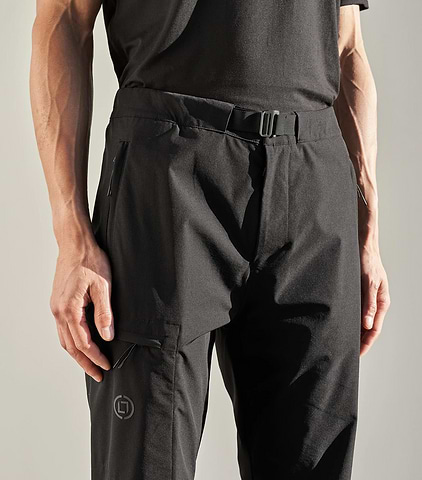 A fixed waistband is fastened with a zipper fly, and there's a built-in belt with a metal buckle for a minimalist aesthetic.
Pair with one of our jackets and a beanie for winter excursions and switch it up with a cap and a pair of streetwear sunglasses in warmer climes. 
Tailored Pants
We told you not all streetwear pants were cargo pants, and our Tailored Pant is a case in point.
These days, we want our work pants to do double duty, taking us seamlessly from client meetings to after-work drinks. Our slim-fit Tailored Pant is designed to do just that and more. Not your average workwear pants
Crafted in a heavy wool blend for warmth and comfort, the trousers come in classic black. The pant follows a modern silhouette with an extended leg finishing with a hidden zip to the leg openings. The front and rear pockets are zipped, and the fixed waistband features a cross-over with a clip and button fixture.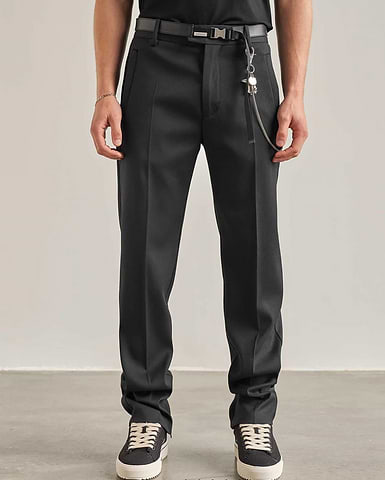 You can dress them up with a shirt and tie, or opt for a more relaxed look with one of our overshirts. Pair with the Alpha Low in triple black for a low-key look and layer your overshirt on top of a graphic tee. Alternatively, try pairing with a varsity jacket for a sophisticated contemporary look.
Split Pants 
The Split pant are a great option if you like the tailored pant style but prefer a slightly looser fit and lighter fabric, being crafted from a medium weight drapey wool blend. They feature the split hem to the outside of the pant, and feature two pockets to the rear.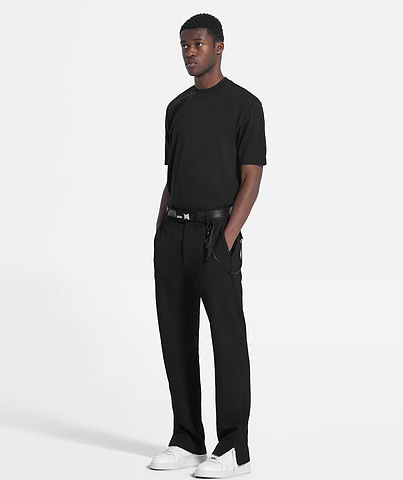 The Split Pants are incredibly easy to style; they can be dressed up with something like a leather jacket or equally dressed down with a streetwear hoodie.
Tailored Track Pant
Combining the smart workwear look of the tailored pant with the unbeatable comfort of tracksuit pants, gentlemen, we give you the Tailored Track Pant. This ingenious marriage incorporates heavy wool blend tailoring and a tracksuit-style elastic waistband with a black lace adjuster.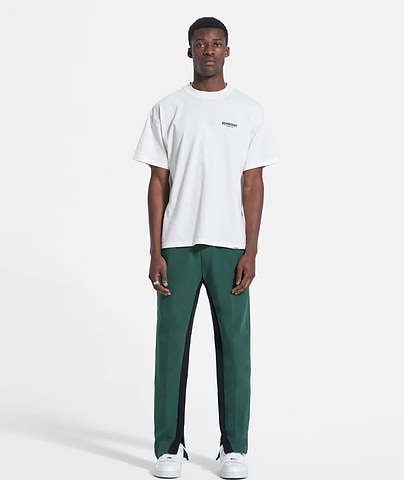 It is the details that really sell these relaxed fit pants as office appropriate, rather than just suitable for casual Fridays. The legs are slim fit with a front pleat and two piped seams to the inside legs, and there's a hidden zip to the leg openings. You'll also find welt zip pockets to the front, and rear welt pockets without zips.
Try pairing with a leather flight jacket, blank t-shirt and Apex Sneakers.
Blank Sweatpants
For gym, lounge or working from home, sweatpants remain king. The Blank Sweatpant follows the 247 slim fit, with an elasticated waist and cord adjusters at the hem of each leg.
Made in heavy loopback cotton, the Blank Sweatpants offer comfort and convenience, with a rear patch pocket to the left leg, in addition to the welt hand pockets with RiRi zippers.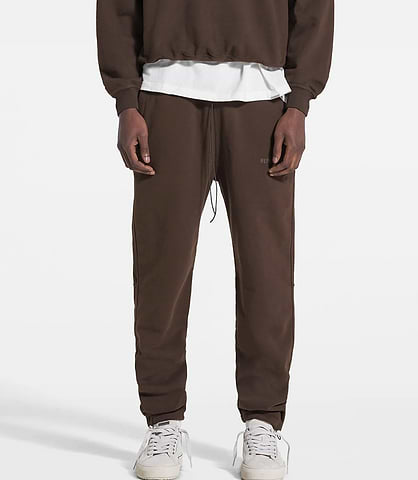 Available in a huge colour palette, these can be styled with other pieces from the Blank pack, including Blank Shorts, T-Shirt, and Hoodie and Sweater. Wear one shade head to toe, or mix and match. Be sure to check out our article on sweatpants outfits for men.
Represent Owners Club Zip Sweatpant
In contrast to the more tonal shades of our Blank range, the Represent Owners Club Zip Sweatpant comes in bold hues such as Cobalt and Racing Green. You can also go for monochrome with Black, Flat-White, and Ash-Grey.
A slim fit silhouette in a new and improved heavy loopback cotton, the Represent Owners Club sweatpant features an elasticated waistband and zip adjusters to both legs. Welt hand pockets with RiRi zippers and a rear patch pocket to the left leg allow you to hit the streets with your phone, keys, and other essentials secure.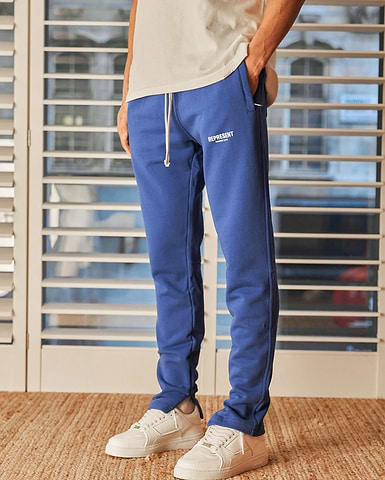 The bright hues pop against a simple white tee and sneakers, such as the Apex.
Initial Down Trackpant 
One of the more out-there pieces from our collection of streetwear pants are our Initial Down Trackpants. Constructed with quilted initial logos, they are crafted from nylon with an eco down fill. The trackpants feature an elastic waistband, zip pockets, and split hems with hidden zips.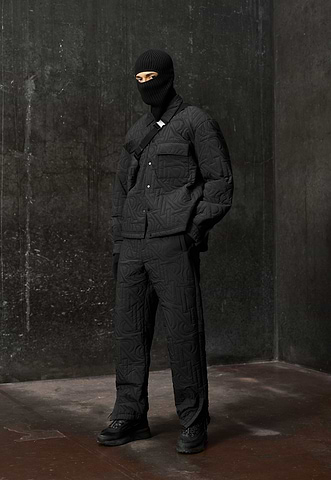 Closing Thoughts
Those are some of our top streetwear pants, but we've by no means exhausted our full collection. If you are looking for similar products, you can check out our other styles and colourways
If you are looking to purchase any of our streetwear pants in the meantime, you can now do so risk-free. Pay through Klarna, Clearpay, or another of our new payment gateways on site.