Sliders are fast becoming everybody's favourite piece of footwear they own, with the best sliders for men being used for every occasion, wether that be taking the bins out, walking to the shop or worn to work and used as a fashion statement. Sliders have become an everyday essential and have evolved from a shower shoe to an everyday appropriate piece of footwear. 
Be gone the days of the flip flops, if you are like me and hate the annoying piece of rubber that slips between your toes, the transition to slider was easy. The ease of sliding your feet into a comfy pair of sliders and feeling fully supported makes a world of difference. The convenient nature of a slider has boosted their popularity into the mainstream, with now every major brand creating their own versions.
Major sports brands such as Nike & Adidas nailed their slider designs early on, then the big designer brands started catching on. The infamous Gucci slides became very popular amongst rappers and the rich & famous, and they were now seen as a must wear for everybody. Until recently sliders lacked comfort, they were made with cheap plastics and didn't think about cushioning. This was until the infamous Yeezy slides came out. At first a lot of people were dubious on the design, thinking they were way too big and chunky, but everybody's opinion changed once they got a pair on feet. The comfort was unmatched, the foam based slider blew all competitors out the water and soon there were rip-offs being made left, right and centre.
With these evolution of sliders, its also had an evolution of what we can wear them with. At first people rocked them poolside with a pair of swim shorts, but now as they've some what become acceptable to be worn anywhere, any outfit goes. At first people would laugh at white socks and sliders being worn, but down its a common occurrence, and it now being classed as "cool". People even now wear them in a full casual outfit, paired with joggers and hoodies for that ultimate comfort. 
The best sliders for men can be worn with anything, and in this blog we will be showcasing our brand new sliders, how they were made and what they can be worn with.
Best Sliders for Men
Introducing the Represent slider, constructed with a custom soft super-matte EVA, finished with sand blasted insoles for grip. The tread is formed using Represent branding, to leave your mark where you step. Accent lines run through the heel and the Represent logo is embossed on the outer side of the slider. We have created three colour ways to start with, Matte Black, White & Taupe, with more colours coming in the future.
We approached the sliders like everything we do at Represent, with high quality and luxury in mind, to be worn with anything in your wardrobe. After an 18 month long process to create the best slider for men, we created a custom silhouette in which we use high quality EVA material to create a super soft slider. 
The matte black colour on any slider is the universal favourite, as it is easily worn with any outfit and doesn't show as many marks if you scuff them. As we are approaching summer time, we'd tend to wear these with a pair of shorts, and we have some perfect pairs to wear them with.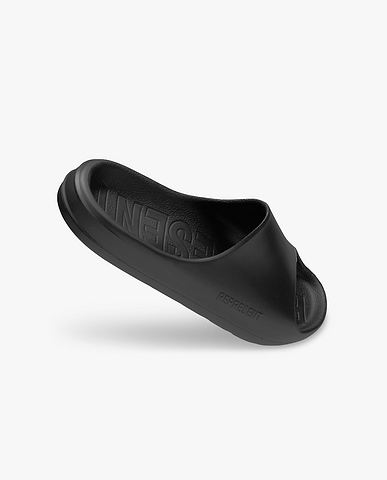 With the black colourway you can tend to get anyway with pairing them with any style of shorts or outfit. For a more "going out" kind of outfit, we'd tend to pair these with our Yacht Shorts & Yacht Shirt in Black. The full black outfit can ensure you still look smart and minimalistic whilst maintaining the full comfort of wearing the sliders out. If you are looking for a more casual intent, i'd go with pairing them with some of our Owners' Club shorts in Black. These relaxed fit mesh shorts give the full comfort vibe, pairing these shorts with a pair of our Logo socks in white, and the Matte Black sliders will give you that full casual look dressed in full Represent.
The flat white colour can be tricky at times, even though the shite makes it easy to match with plenty of outfits, wearing them out you could tend to scuff and ruin the slides. These are the best sliders for men look to wear poolside, or for full casual intent.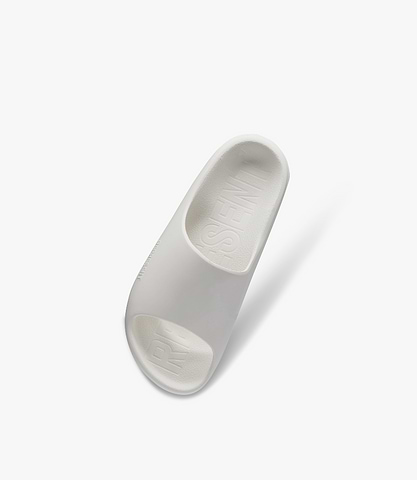 If you are to wear them poolside, id recommend pairing with some swim shorts and our Represent Owners' Club t-shirt, be on the lookout for our Represent swim shorts coming soon. For the full casual look, id look to pair with a full Blank tracksuit and a pair of our Logo Socks. The Flat White colourway ensure no matter what Blank tracksuit you go for, the sliders will go with any colour you choose.
Taupe
The taupe colour is one that is not seen on too many sliders on the market, and makes it quite unique and one of my favourites to rock. These are the best sliders for men to be worn for casual intent.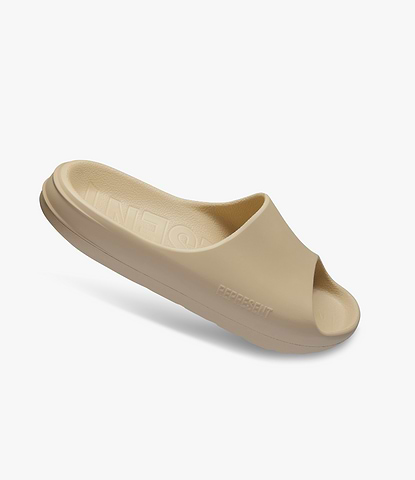 I'd look to pair these with some of our Blank shorts, you can look at matching them with our Taupe Blank's for that full matching fit. The Taupe Blank t-shirt & shorts would make the perfect fit, and again you can choose to wear without socks, or grab a pair of our White Logo socks to make the full fit. Another pair of shorts I like to pair these with are our Mesh Shorts in Black, these shorts have heavily branded across the front with our Represent logo, so pairing these with the Taupe sliders and White Logo socks will ensure you stand out and show people you've got that full Represent fit.
To conclude, the best sliders for men can now be worn with any outfit and for any purpose, wether that be poolside, casual or for going out. At Represent, we believe we have made the best slider for men, for all purposes. Our highly anticipated sliders are available now to purchase, with many more colours and restocks coming soon, so be sure to keep an eye out on all our socials for updates.