A new chapter in Footwear begins in SS21. 
We have spent the past 12 months reanalysing, reimagining and reconfiguring the Alpha and Reptor collections in order to write a new chapter in the story of Represent footwear. Through combining luxury quality with cutting-edge aesthetic and design, SS21 footwear is only the beginning.
The process started by analysing the three most important components to any piece of footwear - design, quality and comfort.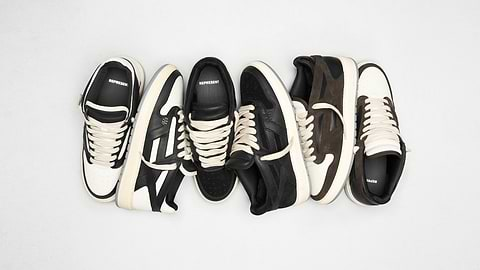 Countless hours have been spent sampling the finest textiles and materials accessible. Sample after sample have been tested in real-world settings by real people until we have found the final formula that achieves every aspect of what we originally set out to do. 
Developing our own bespoke sole unit has allowed us to incorporate the new represent branding while also allowing a faster, sharper and more efficient production process while also eliminating any slight room for error. 
Dozens of refinements to the sneaker shape and toe box have now enabled a comfier and more exacting fit across the entirety of the Represent footwear collections. 
Through every slight modification and fine-tune to each sneaker silhouette, we are now equipped to reconfigure a pricing structure that works for all whilst still remaining true to the Represent ethos of luxury streetwear.
The Footwear Collection. Made in Portugal.