'An achromatic pallet displays Represents' mainline architecture, the Fall Winter 2021 collection named 'Horsepower' delivers a focused assembly of textures & washes through a collective of workwear, sportswear and vintage inspired silhouettes developed in luxury form'
In this blog we look into what makes our FW21 collection. Why it was crafted, what inspired it and how we believe this carries the legacy of Represent in the modern day. Later in the blog George and Mike discuss their favourite pieces within the collection.
Our Fall Winter 2021 capsule is titled Horsepower. Horsepower expresses the output of this collection and embodies the hard work, intensity, evolution and maturity that has taken place behind the scenes in order to develop it. Horsepower represents the brand's purpose and displays the inspiration of British motoring history.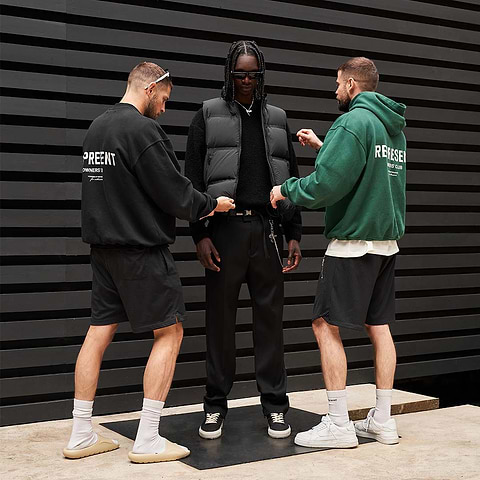 This collection is inspired by our classic Represent aesthetic which showcases oversized silhouettes upon a very achromatic palette of textures and tones. The goal was to create a seamlessly flowing wardrobe, where garments can be mixed and matched.
Horsepower sets itself on another level within the aesthetics of Represent as it embodies a stronghold with advanced detailing, luxury fabrications and refined fittings as well as showcasing new silhouettes within each department. For this reason, planning for Horsepower took place in the second half of 2020, to allow for advanced refinements and alterations. The collection was showcased to store partners in January 2021.
In a similar fashion, we wanted to provide an immersive and inspirational experience to our customers for this collection. Our teaser video allowed us to showcase the capsule as a runway show, displaying over 20 outfits which were all made up differently to display the versatility of the collection. We strived to showcase the collection in a virtual lookbook style and represent the seamless nature of Horsepower.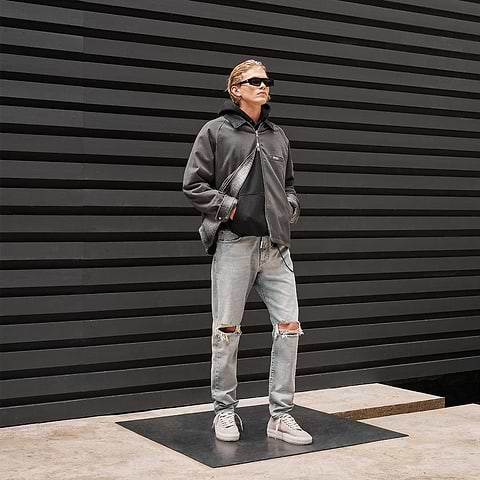 Due to its incredible craftsmanship, bespoke fitting and technical advancements, the Down Filled Puffer Bomber is destined to be a bestseller. From sampling to pre-production the puffer provided dilemmas throughout, such as maintaining a slim aesthetic, with a full body that carries a distressed oversized draped shoulder and raglan sleeves while containing real down that can provide unrivalled warmth. The final product spearheads the collection in terms of statement pieces and as a perfected winter layer.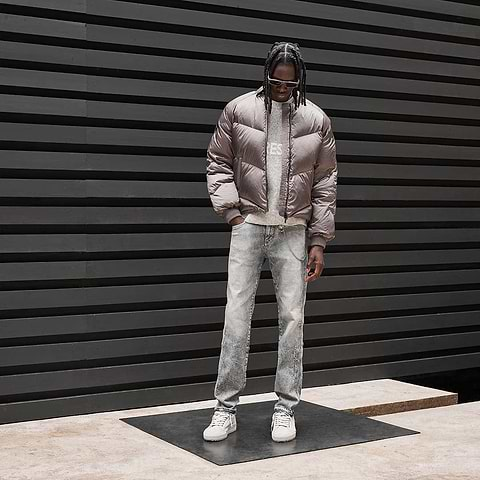 We are proud of all the garments featuring in Horsepower, as all have taken months of refinement and delicate tweaking to finalise, however, the tailored track pants are beautiful. Beautiful as it is crafted in an Italian heavy stretch wool and features phenomenal detail never before seen on such a garment.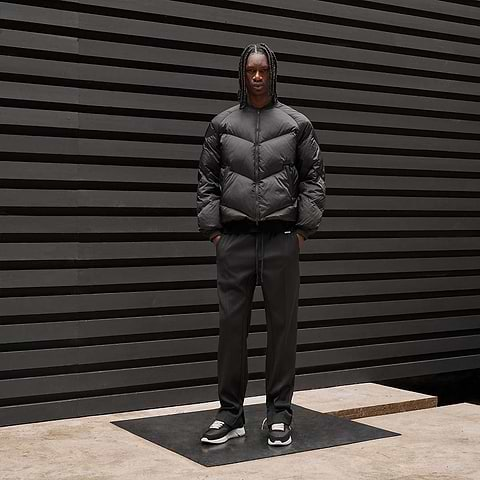 George:
"Personally, I love the coach jacket. The piece is smart and very detailed with Cobra tonal hardware, but with a classic streetwear twist that carries a rubber logo branding to the rear. The hidden front button stand sets its minimalist all black look to such an easy wearing piece I can put with knits, jersey, denim and track suiting." - This can be found in drop two.
Mike:
"The Owners' Club varsity jacket for me is a personal favourite. The club badge has been constructed in patch form with chenille stitching mixed with flat embroidery, it's an interesting technique that's really given it depth whilst it sits on the jacket. The contrasting body and sleeves combined with the striped rib really makes it a stand out piece."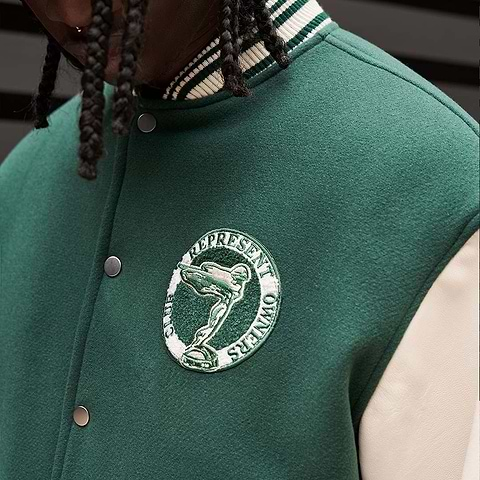 Drop 1 launches 01.09.21.