Best Gym Clothes For Men
In everyday life we do our best to look for the best quality in what we buy, whether that be food, homeware and even clothing, we want the quality of our belongs to match the aesthetic we aim for. Looking for gym clothes should be no exception to that rule. 
You should want to wear the best gym clothes possible to not only make you look good, but to also maximise performance in the gym, the old term "you get what you payed for" doesn't stop when it comes to gym clothes. Gym clothes should be made to last, and made to help aid gym performance as your gym wear takes heavy wear and the more you work out, the worse condition it becomes.
In this article we will explain what features to look our for in your gym clothes that make them great, as well as showing you the best gym clothes for men we have to offer that meet all those expectations.
Best Gym Tops
A good quality gym top is an absolute essential for when you are working out. There are 2 main components to a t-shirt that i look for when it comes to working out, and i will explain what they are and why they are so important.
I look for t-shirts that are breathable and sweat-wicking, most activities we do in the gym cause us to sweat, if your t-shirt is made from a heavy cotton it can cause sweat to be trapped within the garment and eventually cause iriitation to the skin. Not only that, but it causes the t-shirt to smell after a few wears, as washing it isnt enough sometimes. Being sweat-wicking allows moisture to move through the t-shirt, and it allows the t-shirt to be worn for longer without losing its shape and integrity. The best gym tops have multiple blends of fabrics and be able to do this.
The other component I look for in a gym top is the material, i want a stretchy, comfortable material in order to perform the best in the gym. Most cotton t-shirts don't have the stretch in them to be able to get the full range of motion needed to perform certain exercises in the gym. The best gym tops have 4 way stretch materials, to allow your arms and body to move in its full range of motion to perform to your best.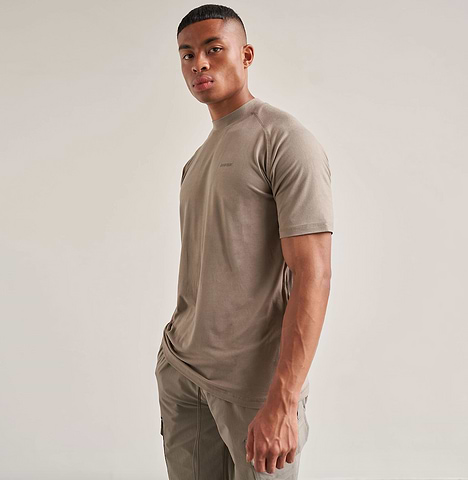 Introducing our 247 T-shirt, the best gym top for men on the market. It was created with a super soft stretch fabric with a matte finish, it also has the desired 4 way stretch in order to maximise that full range of motion needed to perform your best. Within the fabric is the sweat wicking technology, that keeps you feeling fresh throughout your training session. Our sweat wicking technology supports your body's cooling system by re-dispersing sweat evenly throughout the garment to accelerate the evaporation process. The fabric also has shape retention properties to maintain shape and aesthetic wear after wear.
The fully breathable garment comes in a range of colourways to ensure you are looking and feeling fresh in the gym. We believe this is the best gym top for men on the market today. Shop the 247 T-shirt here.
Best Gym Pants
When wearing long pants in the gym, it can be tough to find the correct ones that tick every box. There are many different features to look out for when deciding what are the best gym pants for you. 
Having a good stretchy fabric is essential for longer pants, as in usual long pants you don't get the same range of motion as you would with shorts. With stretchy fabric you can still have that full range of motion you desire, whilst keeping your legs warm in the mean time.
Another feature I look for is pockets, it is essential to have many pockets to carry your belongings in whilst you train, especially if you don't have a gym bag. It is essential that these pockets have zips on them also, so you can keep your valuables safe and secure whilst you train.
The last feature I look for is to be water repellent. Nothing is worse than training outside and it starting to rain, only to realise your cotton pants are becoming soaked and heavy. Having the right material that can repel water is essential when training outdoors. Also having the pants being quick drying is another great component, it allows you to wear that pant a few times before it needs to be washed, helping you feeling fresh for longer.
We believe we have a pant that ticks all those boxes, our 247 Pant. This pant is our bestselling item over the last couple of years, and theres many reasons why that is. A pant to be made for both physical and casual intent, for all purposes in mind. What makes this such the best gym pant is some of the key features. It has an array of zip pockets, with some cargo style on the side of the pant, made with only the best Ri-Ri zippers to ensure your belongs are safe whilst you train.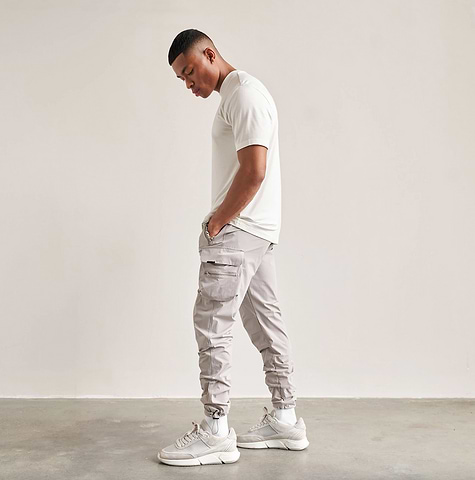 The pant has and adjustable hem and waistband, so you can tighten the pants when using them for physical intent. The adjustable drawstrings are also at the bottom of the leg openings, so you can tighten the pants to your leg so they don't obstruct you whilst you train. It also features the 4 way stretch fabric, so you can wear the pant and still have that full range of motion needed to train properly.
These pants are also made for the outdoors, the water repellent and quick drying material used to create this pant is perfect for training outside for when the weather goes tough. These pants are made for all occasions and weather.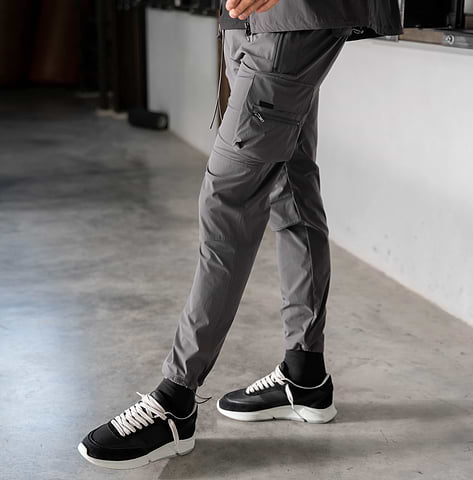 The 247 pants come in multiple colours, and also come in a zip leg style, so you can pick and choose which one you want to wear to the gym. These pants are the best gym pant for men, and they also have their casual needs too. These pants can be worn with any of the Represent mainline garments, and they are a fan favourite in the office, and to our customers worldwide. Shop the 247 pant now.
Best Gym Shorts
When looking for gym shorts, the same components apply for when looking for gym pants. We want them to be sweat wicking, have multiple pockets and have soft, stretchy material to be able to be used to their full extent.
One other component you should be looking for when it comes to buying gym shorts are the length. You want your gym shorts to fall just above the knee, to be able to not restrict your movement in the gym.
We have a short that ticks all these boxes, the 247 Short. Created with the exact same 4 way stretch material as the 247 pant, we have made a shorts version, for those warmer workouts when you don't want to wear the pants. The shorts are water repellent and quick drying just like the pant, just in case your training includes being outside and shorts are your preferred option. It also includes the multiple zip pockets and the added cargo pockets, just like the pant does.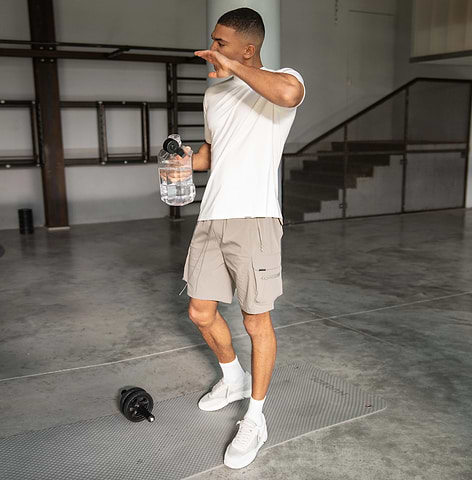 The short finishes just above the knee, which is the perfect fit for all activities in our outside of the gym, allowing you to get that full range of motion. The adjustable drawstrings on the waistband allows you to tighten the pants to they are always in place during the workout.
The 247 shorts come in the same colourways as the 247 pants do, and are the best gym shorts for men on the market today. They are also made for both physical and casual intent, so pick up a pair here and enjoy your 247 shorts all year round. Shop the 247 Shorts here.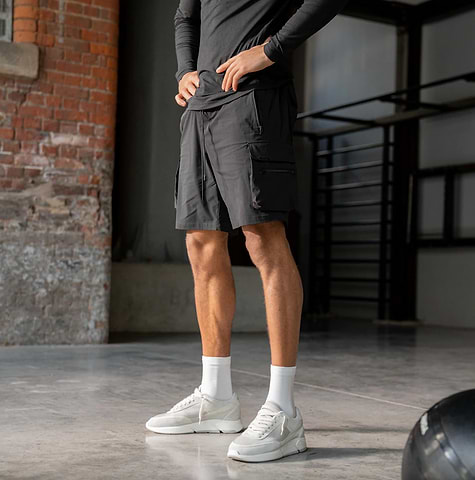 Best Gym Hoodie
When working out, your body and muscles want to be primes and ready for exercise. The best way to do this is ensuring your muscles are warmed up properly, especially in the winter months the weather is too cold be be wearing just a gym top, so you need a hoodie to be able to keep warm on your way to the gym and ensure your body is primed to train. If you are like me too, you want to wear your hoodie for the first few exercises, to ensure your body is fully warm and ready for the session, as cold muscles can lead to injury and spending time away from the gym.
Therefore I class a gym hoodie as an essential piece to have in your wardrobe, but again there are some factors you need to look for before purchasing the best gym hoodie for you. First you want to look for super soft fabric, because we all want to be comfortable in a hoodie, right? These kind of fabrics will also help you keep warmer in your trip to the gym. Another factor I look for in a gym hoodie is the material is moveable, so it doesn't restrict movement when warming up.
At Represent we have the perfect hoodie for this, the 247 Foundation Hoodie. The hoodie comes in a black colourway, and in a zip up version too. The kangaroo pockets feature hidden zip features to keep your belongings safe and tonal branding on the front chest of the hoodie. It features super soft fabric and a cotton inner, to ensure you keep warm at all times and primed ready for action. The raglan sleeves and and arm panelling ensures the hoodie is made for active intent, and movement is not sacrificed whilst wearing the hoodie.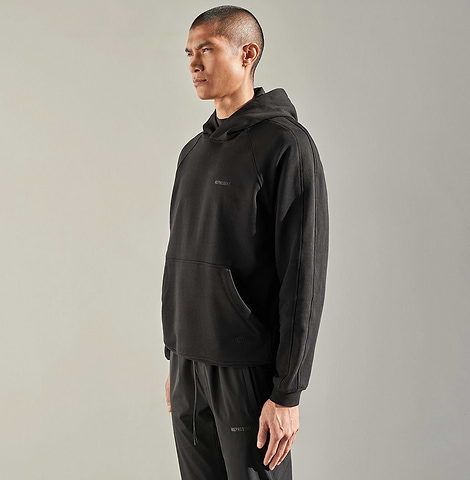 This was our selection of best gym clothes for men, it features all you need to be worn in the gym and any outdoor training, garments made for all occasions and for both physical and casual intent. Shop the full 247 range here and find more products to help aid you in the gym.